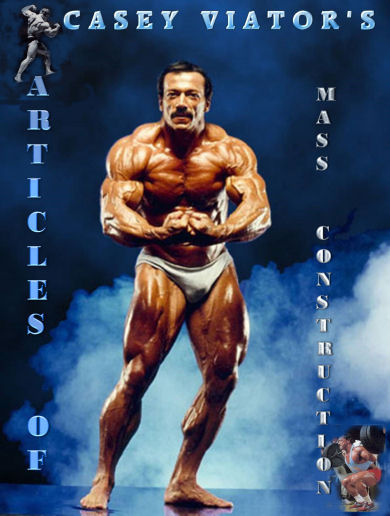 Book Reviews
Rosemary Hallum
Casey Viator's New Book of Articles of Mass Construction



More of the Colorado Experiment
Nautilus - The Early Years
Psyching the Mind for Mass Building
Vascularity and Muscle Separation
High Intensity Training
All Body Parts Routines
. . .and much more

Plus additional chapters on Negative Training for size, Calf Development, advanced chest workouts for all levels, how to get shredded, developing steel-cord forearms, intense thigh workouts, protein steps to nutrition, staying motivated, and more.

Send check, money order, or MasterCard / Visa Number with Expiration in the
amount of $29.95 plus postage (U.S. Postal Rates), to:


CASEY VIATOR
1773 Ashton Abbey Rd.
Clearwater, Florida.
USA 33755

OR
Email your information to: cviator@mindspring.com
Order Now

Please select International Orders if out of US, you will not receive order if you do not select that option and will be billed for balance.



US Orders including shipping:
International Orders including shipping:
Purchase Both Books US including shipping:
Purchase Both Books International including shipping:
Your credit card will be charged Iron Feats, Purchase securely through our authorized agent NetBilling .
or send check, money order, or Mastercard / Visa with expiration date to:


CASEY VIATOR
1773 Ashton Abbey Rd.
Clearwater, Florida.
USA 33755


---
Email Casey: cviator@mindspring.com
copyright © 1998-2013 Casey Viator
Most recent revision: January 15, 2010